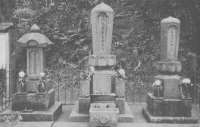 Ohishi's wife tomb
in Toyooka
27p
They had a dream hoping to restore the Asano family. " Even if there were
only 10,000 koku... " and "the day might come when we can go back to Ako.."
But their sweet dream didn't come true. Kuranosuke ordered Ohtaka-Gengo
and Kaiga-Yazaemon to recognize their will of revenge. Gengo and
Yazemon visited the comrade's houses near Kyoto, Fushimi, Ohsaka, and Ako.
And so this two comrades visited other comrades. And they said, " There was
no way we could Daigakusama's decision at the time. We'll break the previous
promise and I'll return only the Sinmon(written pledge)."

The comrades who received the Sinmon were removed from the Meiyaku
(pledge). Gengo and Yazaemon told the comrades who been quarrelling
that no matter what the situation was, they must carry out the act of
revenge however, as soon as the Maruyama conference, begins they must make
a resolution to pledge comradeship again.

Around August (August came twice this year, due to the Leap August)
the comrades left their the Meiyaku one after another and only about fifty
comrades stayed in the Meiyaku.

From the end of the Leap August, Kamigata's comrades who had kept to their
arrangements went to Edo in threes and fours.

On the other hand, it's getting important role for comrades in Edo to
check Kouzukenosuke's movement and to familialize themselves with the
site of his residence.

Around the middle of April,Kuranosuke let his wife and children go on ahead
to the home of his wife's parents in Toyooka. In Leap August, he had moved
into the city of Kyoto.

Clothes for revenge

28p
Kuranosuke also let his eldest son, Chikara-Yoshikane, go on ahead to Edo,
and he himself left Kyoto on the 10th of October.

He entered the house in Hirama village, Kawasak where his comrades were
ready for him, on the 26th of October and he issued instructions consisting
of 10 articles. Costumes, weapons to be used in the case of revenge and
what to carry out and how so as not to be conspiciuous were all prepured in
advance.

He arrived in Edo, and he got to the house of Oyamaya-Yahei in Nihonbashi,
Koku-cho where Chikara was staying on the 5th of November. Nine comrades
stayed in this house. This house was an inn where people attending the trial
were to stay. He said, "I am a samurai living in Ohmi, and l came down to
witness the tria1". But some people doubted this was true.

Kuranosuke gave many directions about how to carry out the act of revenge
from the 5th of November to the 14th of December in this house.

In this way, the comrades arrived in Edo and Kuranosuke was the last to
arrive.

Every comrade must have felt as if their hearts were being torn apart as
they said good-bye to their parents, wives and children and sympathised with
those families who had suffered bereavement. 1n the Genroku era, this caused
a rise in prices. So the lives of Ronin(the masterless samurai) were very much
in need. According to Kuranosuke's "Gold and Silver Ukeharai Cho", we can
estimate that Kuranosuke gave great assistance to comrades in return for their
life. They were very worried about the lives of not only their mothers who
were and living alone but also their wives and children.